Tue, 30 September 2008
Asvagosha Songs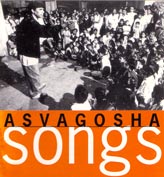 This recording of songs from the Asvagosha project troupe is a real find in the Dharmachakra Archives.
The Asvagosha project was set up in India in the early 1990s as a way of developing cultural activities among poor 'ex-Untouchable' communities in slums and rural areas. Teams of performers visit the localities and put on performances of sketches and specially composed songs. The shows reflect the concerns that are uppermost in the minds of the people from these communities- issues such as alcoholism, domestic violence, superstition, and child health. The performers bring a level of humour and energy to their performances, ensuring that the messages are conveyed in a straightforward, unpatronising way.
For more on the Karuna Trust's vital work with 'ex-Untouchable' Indian Buddhists, see their website.
Singers
Dhammachari Ratnodaya, Dhammachari Kamalabodhi, Dhammachari Satyadeepa, Dhammachari Yashoratna, Rahul Sownone, Satish Moon
Musicians
Ananada Panchabhai, tabla
Narendra Kale, harmonium
Original Producers
Dhammachari Siddhartha, Jayant Barve
Digital Remastering
Dhammachari Candradasa
All songs composed by members of the Asvagosha project (except 'Raho Sukhame' – composed by Dharmarakshita)
The Asvagosha project is run by Karuna Trust and Bahujan Hitay. Both are non-profit charities.
Tracked version includes the following detail:
01 Asvagosha, Asvagosha
02 Jivanta Dakhala
03 Ek Bano Neka Bano
04 Dhamma Januna Ghe
05 Tumche Amuche Bandhutwache Nate
06 Andaratun Baher Ya Ho
07 Ata Tumhi Te Deepa Wha
08 Mahaparinirvana Sagari
09 Raho Sukhane Ha Manau Ethe
---