Sat, 21 May 2016
Living In The Greater Mandala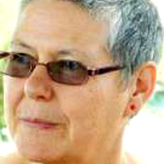 Parami delivers this week's FBA Podcast entitledLiving In The Greater Mandala. She brings this theme alive in the most human, poetic, and inspired of ways.
Her range is broad as she evokes the mandala itself, and the profound, playful path of the Bodhisattva. Calling forth Rumi and Hafiz, the great Buddhist Perfection of Wisdom texts, Keats, Yeats, Robert Hass, and Kenneth White, she illustrates what it looks and feels like to live dedicated to the wellbeing of all as the most natural thing in the world.
As always with Parami, her great experience shines through in this talk – a terrific encouragement to anyone thinking of integrating this perspective of joy into the challenge of everyday life…
Recorded in Adelaide, Australia, October 2015 for the 2015 Triratna International Urban Retreat.
---