Tue, 30 September 2008
Asvagosha Songs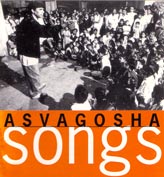 This recording of songs from the Asvagosha project troupe is a real find in the Dharmachakra Archives.
The Asvagosha project was set up in India in the early 1990s as a way of developing cultural activities among poor 'ex-Untouchable' communities in slums and rural areas. Teams of performers visit the localities and put on performances of sketches and specially composed songs. The shows reflect the concerns that are uppermost in the minds of the people from these communities- issues such as alcoholism, domestic violence, superstition, and child health. The performers bring a level of humour and energy to their performances, ensuring that the messages are conveyed in a straightforward, unpatronising way.
For more on the Karuna Trust's vital work with 'ex-Untouchable' Indian Buddhists, see their website.
Singers
Dhammachari Ratnodaya, Dhammachari Kamalabodhi, Dhammachari Satyadeepa, Dhammachari Yashoratna, Rahul Sownone, Satish Moon
Musicians
Ananada Panchabhai, tabla
Narendra Kale, harmonium
Original Producers
Dhammachari Siddhartha, Jayant Barve
Digital Remastering
Dhammachari Candradasa
All songs composed by members of the Asvagosha project (except 'Raho Sukhame' – composed by Dharmarakshita)
The Asvagosha project is run by Karuna Trust and Bahujan Hitay. Both are non-profit charities.
Tracked version includes the following detail:
01 Asvagosha, Asvagosha
02 Jivanta Dakhala
03 Ek Bano Neka Bano
04 Dhamma Januna Ghe
05 Tumche Amuche Bandhutwache Nate
06 Andaratun Baher Ya Ho
07 Ata Tumhi Te Deepa Wha
08 Mahaparinirvana Sagari
09 Raho Sukhane Ha Manau Ethe
---
Thu, 4 September 2008
Chetul Sangye Dorje

Here's a forthright and passionate talk, taking as its starting point the great contemporary Tibetan teacher (sometimes also written 'Chatral Sangye Dorje') and his relationship to practice in the FWBO via his giving of the Green Tara practice to Sangharakshita. The main focus, however, is the need to practice the Dharma for others as part of a meaningful community, and Vajratara argues her case with a balance of down-to-earth humour and uncompromising vision.
Tracked version includes the following detail:
1. Introduction to Chetul Sangye Dorje; Sangharakshita's first meeting with him
2. Early years and practice; a meeting with the Regent of Tibet
3. The meaning of Chetul Sangye Dorje's name; a meeting with Thomas Merton
4. A teaching to Paramartha; two mind-training slogans (lohjong); practising for yourself versus practising for others; a quote from Sangharakshita
5. Real practice as love and kindness to others; commentary on mind-training by Jamgon Kontrul; the mantra of the universe; resorting to 'the magical practice' of spiritual individualism; going beyond yourself
6. How to practice for others; Green and White Tara; significance of Tara's leg position; balance between self-focus and other-focus; the conflict of choice
7. Be friendly even when you can't be happy; green, nature, and remaining open
8. Practising together, in numbers; all beings as White Tara; drawing strength from communal practice
9. Don't settle for a comfortable life; White Tara as a young girl; settling down; Chetul Sangye Dorje and the meat-eating teacher's disciple
10. Conclusion – Tara as embodiment of practice for others; not allowing our Buddhism to become self-indulgence
---
Sun, 29 June 2008
The Early Teachings of the Buddha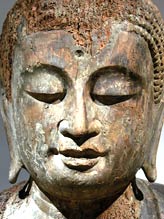 The teachings that Ratnaguna explores in this talk are all from the Sutta Nipata – one of the earliest of Buddhist texts. His sub-title is the rather intriguing: 'The Dharma before Buddhism'. You might say that when it comes to the Sutta Nipata, the Buddha is very clearly telling it like it is. Well, so does Ratnaguna!
In the opening remarks (which, unfortunately, were not recorded) he likens these suttas in their profound scope and effect to the simpicity and purity of Bach's violin sonatas and cello suites.
Given on the FWBO International Retreat at Taraloka, May 2008
---
Fri, 2 May 2008
Staying at Home, Dancing with the Universe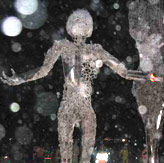 Another excellent talk, from the Buddhafield project. Amaragita takes a look at Buddhist practice in the light of parenting, and has a lot of good things to say about the everyday business of staying with our experience, embracing the hard bits and releasing the joy.
As an added bonus, listen for some lovely singing throughout!
Talk given at the Buddhafield Festival in 2006.
To help us keep this free, please think about making a donation.
---
Wed, 30 January 2008
What Do We Really Know About the Buddha?

A lovely talk this month, from the excellent Dhivan. Be prepared for the odd surprise as he considers the relationship between what we think we may know about the Buddha, and what the historical evidence suggests.
As Dhivan sifts the information that's come down to us, we meet several different versions of a human being as he blurs with the archetypal presence he has also come to represent. Yet whichever manifestation we prefer, more than anything this talk brings us face to face with the rich and moving legacy of a brilliant and truly compassionate individual, changing the world he took part in, stepping out of history "with the walk of a lion, the walk of a swan".

Talk given at the Cambridge Buddhist Centre, 2008
To help us keep this free, please think about making a donation.
---